Video Gaming
by WedgeDoc

I consider myself to be a gamer, spending quite a few of my free hours in a digital world of some kind. Over on the Geek Syndicate website, I'm one of the game reporters / reviewers and I am also the co-host of their video game podcast, The Next Level. I've been recording the podcast since the seventh episode, back in 2010. Being part of the site and podcast has been a great spur to my gaming and has led to opportunities to visit Eurogamer Expo as a Press Visitor and to interview the event organisers. It's also meant I get the occasional review copy of a game, which is always nice.
A Bit of History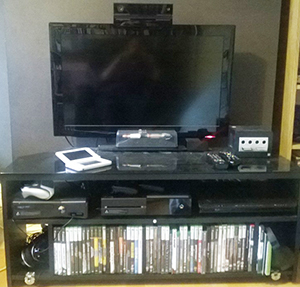 Back in the dark days that were the nineteen nineties, I was mainly a PC gamer and this followed me into the early noughties while at university. During this time, with my own funds available, I got into consoles. Over the years, I've owned:
Commodore 64;
Various PC systems!
Nintendo 64;
Gameboy Advance SP;
Nintendo Gamecube;
Xbox;
Wii;
Xbox 360;
Nintendo DS;
Playstation 3;
Nintendo 3DS;
Xbox One.
Primarily, I'm into Role Play games and action-adventure games such as The Legend of Zelda series. There's not much I don't play, though. Except sports. The closest to a sports game I play is Mario Kart. Or the (very) occasional beat-em-up such as Soul Calibur.
I've spent many, many hours in Massively Multiplayer Online games. From Ultima Online through Star Wars: Galaxies to Guild Wars 2 and Elder Scrolls Online, I've dipped into most of the big name games. To be honest, I wish I had more time to dedicate to online gaming or even gaming in general.
Gamercards
For those interested in such things, here's a gamercard or two.
Xbox Live
Playstation Network (I may not have used my PS3 for gaming much)
Steam (Most of my PC gaming is outside of Steam though)