General Geekery
by WedgeDoc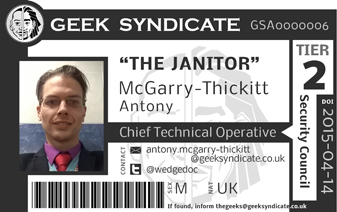 I am a card carrying geek. Almost literally, in the case of my work over at Geek Syndicate. For the 2012 SFX Weekender, myself and fellow site contributors all wore badges. A competition was run to see who could "Catch Us All" which was fun. My interests generally veer into the traditional geek territory but I would also say I'm a geek about my other interests as well.
What is a Geek?
You see, to me, the term geek simply means expressing an enthusiastic enjoyment of a subject or activity. Usually, a certain amount of knowledge in that area is implied – though I would say it's more about the enjoyment and enthusiasm. It's quite possible for a "geek" to be enthusiastically wrong! The content of said subject (or activity) is irrelevant. It could be enjoyment of a soap opera or reality television show. The works of a certain author could be embedded in a person's brain so that they almost don't need to read the books any more. Frankly, any mountaineer who isn't enthusiastic and knowledgable about that sport should probably quit while they are ahead. And uninjured.
There are as many (if not more) football geeks in the UK as there are super hero geeks. People who can real off facts and statistics about their chosen team(s) and the players. I remember smiling when Rick Stein (one of my favourite television chefs) called himself a "food geek" in one of his programs. I confess I can't remember which series or episode it was. That moment confirmed what had always come over to me in his programs: His enthusiasm and knowledge of food and the creation of recipes resonated with the geek in me. Being a geek is something to be proud of. Like Rick (and millions of others) I revel in my geekness!
My Personal Geekdom
So what do I consider to be my areas of geekdom? What am I a full-blown geek about? There are quite a few areas really, but I think the main handful of areas are:
Doctor Who – I've been a fan of the program since I was a small child. I watched it, read the novelisations and in my teens really started to delve into the universe of the program and the making of it. Even now, a new DVD release will see me watching the documentaries and commentaries as often as the stories themselves.
Star Wars – Again, this has grown from my childhood. I've never really stopped my enthusiasm for that galaxy far, far away. Novels, comics, video games – I'll try them all.
James Bond – I'm not sure what it is exactly about Ian Fleming's secret agent but I find myself fascinated by the litterary and filmic incarnations of the secret agent. It's from here that my following area of geekdom stems.
Secret Services and Special Forces (Mainly UK) – Initially, the fictional glorified versions of these organisations drew me  in but I read as much (if not more) non-fiction works about these subjects than fiction these days.
Robin Hood – The legendary outlaw has always appealed to me as has my love of Archer and Ranger classes in table top and video games. The evolution of the legend and the many ways it can (and has) been adapted is fascinating. I also took up archery as a direct result of this love
Super Heroes – I got into comics quite late in life but have always had a fondness for the "Capes and Tights" brigade in their various forms. I normally say I prefer DC's superheroes but this has changed since their ;New 52& line of comics. Saying that, Green Arrow, Supergirl, the members of the Birds of Prey and the Bat family will always be my favourites, I imagine.
There are many others, some of which will come to light in the posts of this blog I am sure.