Designing 007 – A Personal Project. Part 9 – Role of Honour to No Deals Mr. Bond
by WedgeDoc
No Deals, Mr. Bond
From England to Hong Kong via Ireland, No Deals, Mr. Bond is what gamers would recognise as a long escort mission. Bond has to locate and save some young women and a man who had been used as a Honey trap for top Soviet individuals. They have started to turn up dead and M's head is on the block. Pursued by the KGB, Bond (again) faces betrayal and insurmountable odds as he heads to a Running Man style finale in Hong Kong.
The Front
I decided that I wanted Ireland to feature on the cover since that nation serves as the location for a good chunk of the plot. It was also important to indicate the involvement of the KGB and to indicate something of the final showdown in Hong Kong. Other covers for this title have focused on the Morning Star weapon utilised by one of the criminals tasked with running Bond down in the conclusion and I also thought the weapon makes a striking image.
I decided to overlay a map of Ireland with a grassy texture and then add the KGB's emblem to show that the Soviet secret service had it's shadow even on our closest nature. Green became the obvious choice for the main colour on the cover as a result of the Irish element.
I then found a morning star photograph which I cut from its backdrop and laid over the cover so that the spiked ball replaced the "o" in "Bond". As a somewhat gruesome element, I decided to make it look like that "o" had been obliterated and added a trail of blood (again from a creative commons, free to use source) that ran down the front towards the Chinese symbols that make up the name "Hong Kong".
The choice of Font colour stemmed from the KGB logo – indeed, the shade is lifted directly from the original emblem image.
The Back and Spine
The spine features the yellow text with just the head of the Morning Star present over the "o" in Bond rather than the entire weapon.
For the back, the yellow text was used for the quote with the quotes source picked out in white. The Blurb was rendered in white. One paragraph spanning the back cover, the second, off-set to the right of the Hong Kong characters. I rotated these to make better use of the space.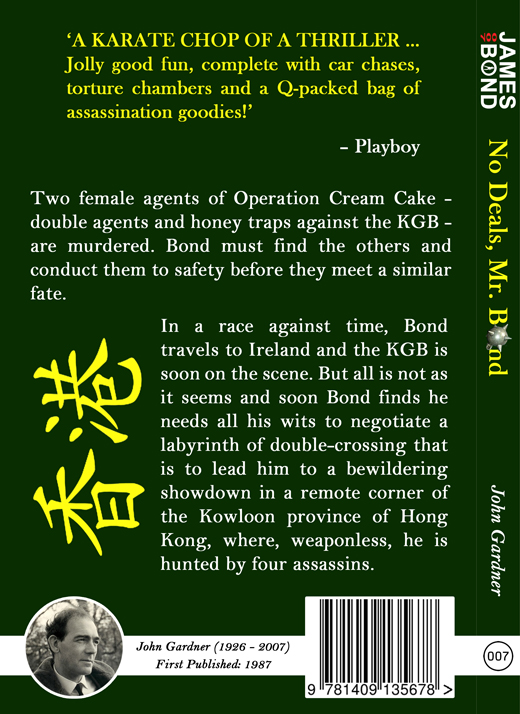 Looking Back on the Design
This reminds me of my cover for Moonraker, but I am happier with the final composition than I was for that cover. I can't help but feel it is missing something – but I do think the core elements of the book are presented and the front cover is an intriguing "in" for readers.