Designing 007 – A Personal Project. Part 9 – Role of Honour to No Deals Mr. Bond
by WedgeDoc
Nobody Lives Forever
In Nobody Lives Forever, James Bond finds himself as the target of a literal head-hunt. Whilst on leave in Europe, Bond encounters two beautiful women who remain his companions throughout. As is often the case with Gardner's plots there are twists and betrayals as the story progresses. Unusually, this book is a direct follow-on from the previous title, Role of Honour.
The Front
I always fancied a silhouette approach to this cover. Initially the idea was to have a Bond-like figure in the cross-hairs of a sniper-scope. Ultimately, I didn't like my implementation of the elements involved and so I moved away from that idea.
I still liked the silhouette idea though and thought it was high time some glamorous women graced the cover of a James Bond novel I was designing. The closest I'd designed before was the profile on the cover for The Spy Who Loved Me. Since two ladies featured prominently in this book, I decided to represent them on the cover.
Finding some creative-commons licence images, I put together the silhouettes of the three players and positioned them around the title which I decided to stagger across three lines. I struggled with a font choice, eventually settling on the neutral but almost hand-written look of Gabriola.
I needed to imply the danger to Bond and his companions – so I created a bullet hole effect coloured in a flat shade of red. Initially I applied this to all three people but then realised that I could get "007" onto another cover. So it was that the two female images got shot and the Bond character became "slashed" with the number 7 from a horror based font. Chiller, I think. As a final touch and to liven up the design slightly, I repeated the red shade on the central word of the title.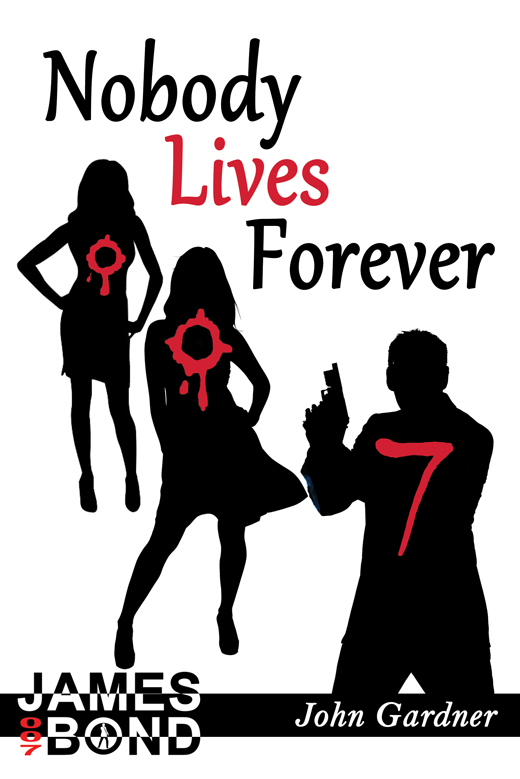 The Back and Spine
I decided to use the "injuries" on the back of the cover and brought them in line to more obviously make the 007 connection. With this in place, I positioned the Blurb around. A quote from the novel featured so to make that stand out, I used the same font as the title and off set it to the right of the main paragraph.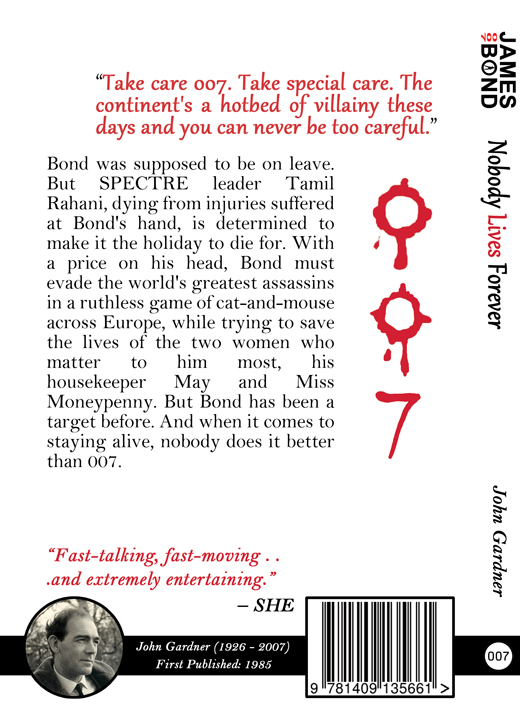 Looking Back on the Design
I seem to like these stark designs more on reflection than I do the more intricate cover designs that I put together. The simplicity and simple colour scheme appeals and I think the danger of the plot is reflected on this cover.