Designing 007 – A Personal Project. Part 1 – The Logo
by WedgeDoc
One of things I do for fun is fire up Adobe Photoshop and other packages to create logos, banners and the like. I have been fortunate in the last couple of years in that the guys over at Geek Syndicate and Unseen Shadows as well as some friends with ideas have trusted me to work on designs with them – for banners, logos, cover layouts, digital magazines and so on.
Bond. James Bond
As something fun to get my teeth into since becoming a new parent, I decided to try my hand at creating covers for the 007, James Bond franchise. Bond is one of my interests – the novels by Ian Fleming are something of a guilty pleasure and it is with these novels that I decided to start. I'll post the covers on this site as time rolls on. I currently have three under my belt that I am quite pleased with and am about to start the fourth.
Before I started though, I knew I wanted three main things from these cover designs:
The covers should be unique in terms of the title font, layouts and contents;
The covers would be "simple" in design, featuring one or two elements from the novel in question;
a common element or two on the covers that would bind them together as a series.
As such, the first thing I needed to do was think up a "brand logo" for the range. This article examines the process I went through to reach the final James Bond logo I came up with, which is presented here in two forms. I always think it is important to create a logo that will either work on multiple background colours or two create at least two variants – one for dark backgrounds and one for light backgrounds.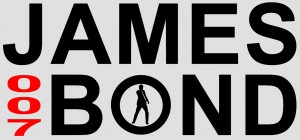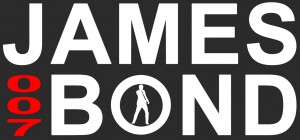 A Happy Amateur
It is important to bear in mind while reading this (and other design articles I may post) that I have no formal design training. Every technique I have learned has been through a process of thinking of an effect and researching how to create that effect. I produce designs (initially) that appeal to me and then tweak according to the customer's tastes. The main purpose of these articles is to point out that if you have an idea about a design, go ahead and try it. I lack confidence, yet each time I have put together an idea it seems to have gone down well on the whole. If I can do it, then you can too.
The Tools I Use
In creating logos, banners and the like, I tend to use the following physical and digital tools. Because I was designing and editing the Geek Syndicate digital magazine, I subscribed to Adobe Creative Cloud which (if you are spending any amount of time on such projects) is well worth considering. Even picking up one or two individual software packages will set you in good stead:
Adobe Flash – I actually misuse Flash quite badly. I use it primarily as a means for producing vector based line-art.
Adobe Photoshop – Probably the most important piece of software on my computer, I use this for putting together screen design samples, page design samples and for actually compiling designs together. Very powerful!
Adobe InDesign – Not used on this particular project (thus far), InDesign is a desktop publishing package that allows very complex page layouts and designs.
Paper, pens and pencils – The old tools are often the best place to start developing concepts. Also handy to sketch ideas for future use.
Myself – It is important not to underestimate the value of your own eyes and brain as design tools. They are the most important element in any design process!
On the next pages, I will look at the concept development process that I followed to produce the final logo.